Miles: PCT: 1.6; Cedar Springs Trail Junction plus road walk to Idyllwild: 19, minus a 2.5 mile hitch along highway 74.
Mileage: 18.1
Day: 9
When the light returned around 5:45, the rain and wind we still working full time and we were still in our sleeping bags dreading the moment when we stepped back out into it.
We packed up as best we could inside the tent, but the tent itself had to also be dealt with.
Richard carries the tent in his pack, and he lost most of the feeling on his hands that morning stuffing the cold, wet thing away.
As soon as we were suited and ready, I took off at a run down the trail. My only thought was to get off the ridge. I kept imagining the lovely world in the valley: sunny, warm, no wind to speak of.
After 1.6 miles on the PCT (it is closed from mile 162.6 to 178 from fire damage) we took the west spur of the Cedar Spring Trail down off the ridge. A mile and a half of switchbacks later, we below most of the fog and rain. But not yet clear of it.
Once we got to the trailhead, we started the road walk west to highway 74. We hoped to get a hitch and avoid as much of the road walk as possible. We saw no cars on Morris Ranch Road down to the highway.
At that point, the fog was above us and we could even see our shadows sometimes. WHAT?!
I stuck out my thumb and smiled wide for every car that passed while I could safely walk backwards.
We got one hitch 2.5 miles. A lovely man named Jose took us as far as the Lake Hemet Campground.
From there, it seemed, we were on our own. I think if the weather had been nicer, people might have been more helpful. I can understand not wanting to let smelly AND wet hikers into your car.
After many boring miles, we made to Idyllwild just as another deluge set in. We had a reservation at the Knotty Pine Cabins and I couldn't wait for the chance to be dry!
I am so glad we had made a call ahead to the Knotty Pine because other than what was under a roof, no part of Idyllwild was dry that day. It rained for hours, the roads were rivers, and we had chores to do.
Once in our cabin, I set to work taking apart my gear to start the drying process. Every flat surface of the cabin was soon covered with moist to dripping gear.
Soon we couldn't ignore our empty stomachs any longer. We doned our rain gear again and headed for the pizza place.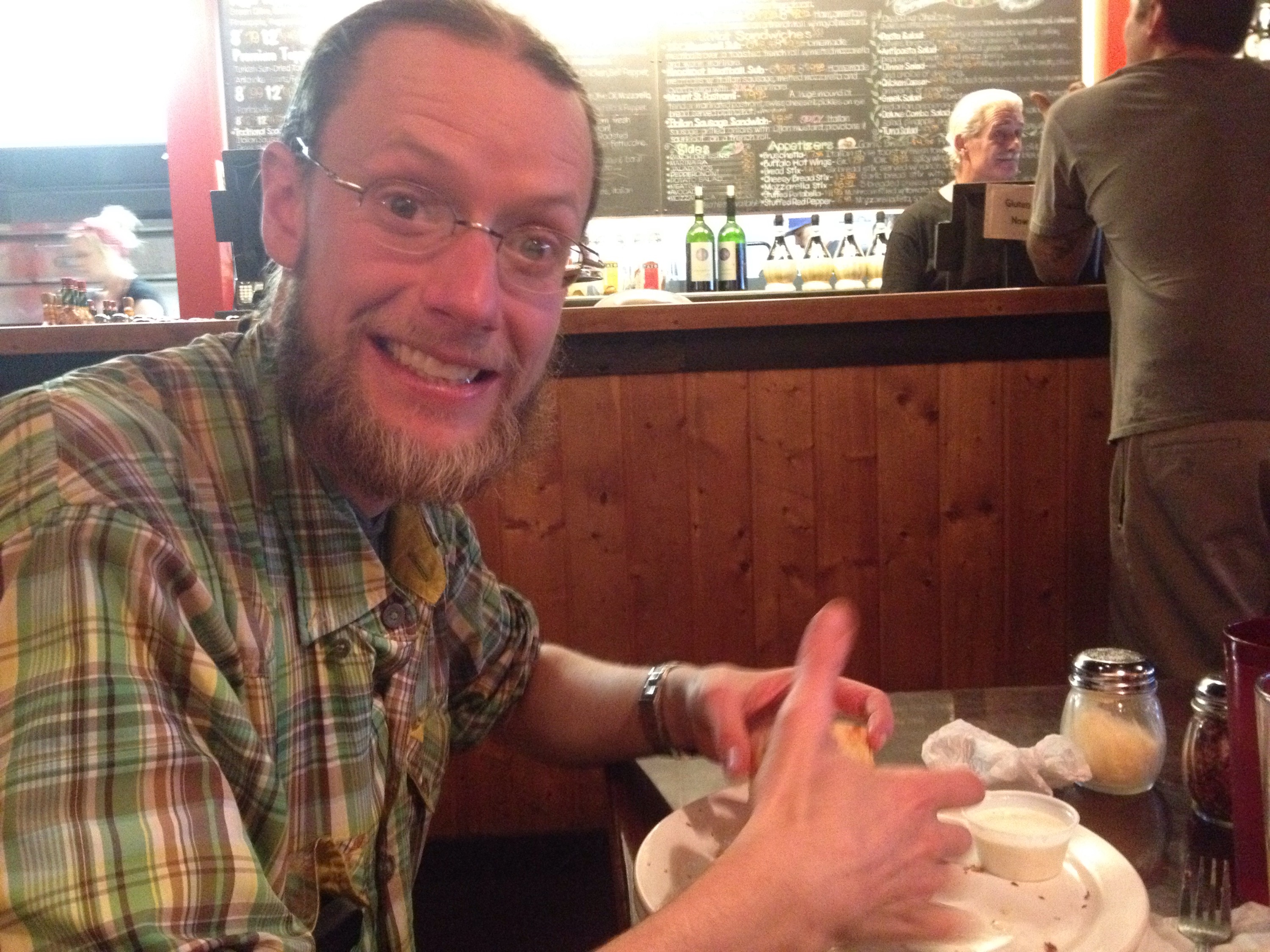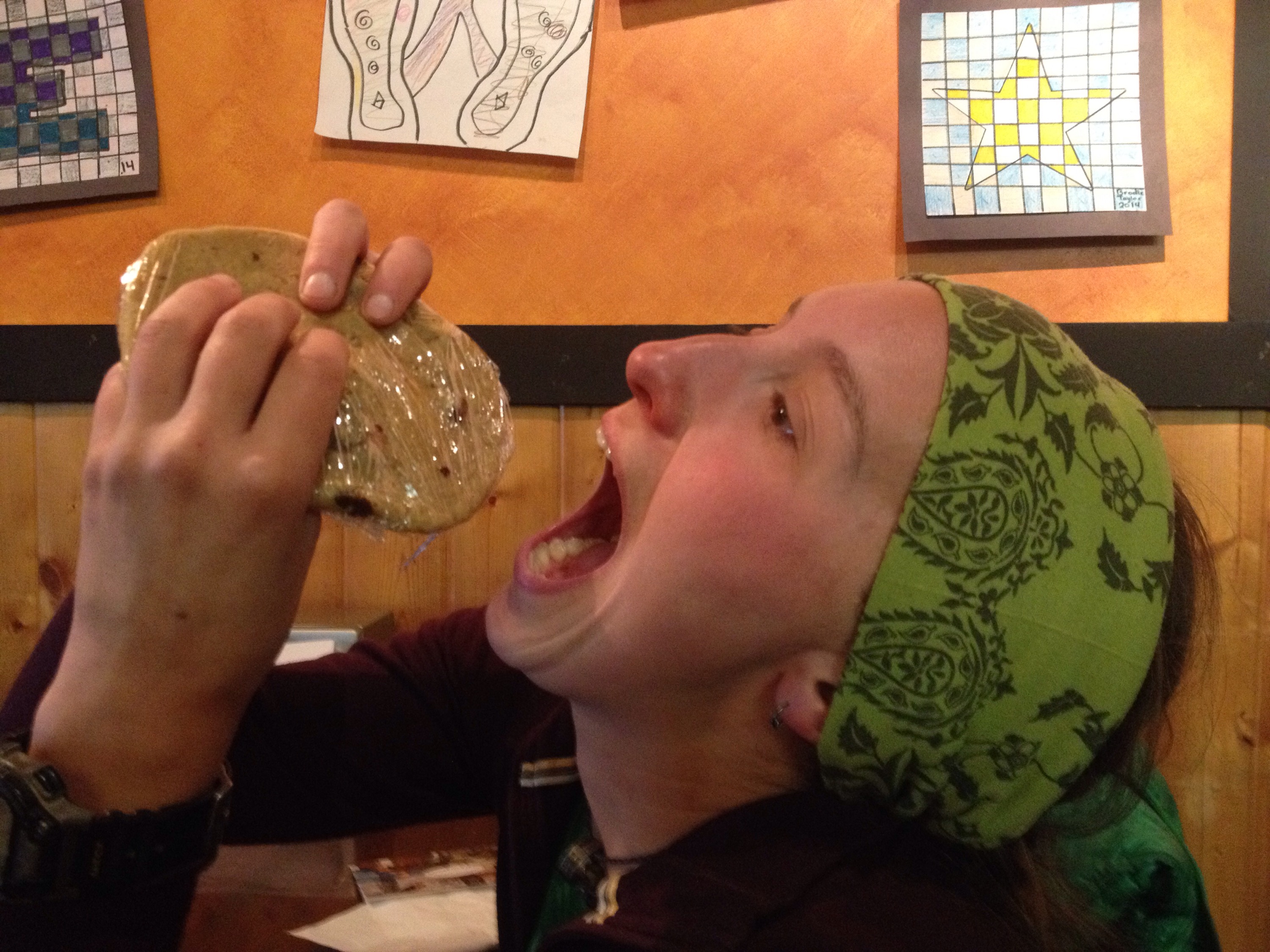 5,000 calories (approximately) later, we were full and ready for errands. Richard got new gaiters at the gear store, and we tried to put together a couple of days worth of food at the market. Even though their selection was meager, we still managed to by too much food. That hiker stomach messes with your brain-to-eye connection.
The last chore of the day was washing: ourselves and our clothes.
I bathed first and gathered up our gross clothes for the laundromat, which was only a few minutes walk away. Any further and I could have been convinced to stay dirty.
Richard stayed at the cabin to cook dinner, start a fire in the wood stove and shower. Because we were washing everything, we only had enough layers not getting cleaned (aka rain gear) to cover one of us to society's standard of decency (aka if we had both gone, I wouldn't have been wearing pants).
Upon my return, we ate more and crashed hard.
Yay for town!