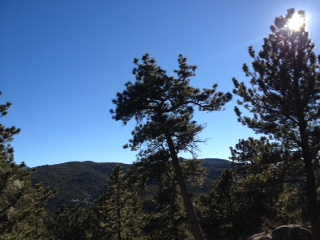 I recently moved from one of my favorite places on earth (New Hampshire) to Colorado (also nice). My intention was to spend the next couple of months skiing and prepping for a Pacific Crest Trail hike, all the while enjoying the snow-covered mountains outside of Denver.
However, since leaving New Hampshire, it has snowed many feet of lovely white onto my former home and maybe a few inches in the Colorado mountains.
While the time spent at altitude will likely help me once hiking the PCT, in the meantime I just want some snow.
The forecast from NOAA says "Sure, here's some snow. How's an inch sound?"
I did get to slide through some snow on my freshly-waxed skis over the weekend. Richard and I took an Avalanche Awareness and Safety Level 1 course through Apex Mountain School. We learned that the Colorado snowpack is the "most dangerous in the world" and that the best time to ski in the backcountry here is in the spring.
Part of the issue with Colorado snow is the lack of it, our instructors said. The more snow, the greater the opportunity for healing within the layers of snow. By spring, Colorado has received its bigger dumps and the deadly, persistent slab has morphed into more consistent layers.
Until then, I will just have to make more red blood cells, enjoy my upcoming Tanzania trip and daydream about the PCT.