Miles: 651.4 to 676.2
Mileage: 24.8
Day: 31
We let ourselves sleep in a bit. The 30 mile day was enough to deserve a little reward, we thought. Plus, if we left too early we would miss Trail Angel Twinkle Toes making breakfast.
At 6:45 we lugged our stuff up to the picnic table where Twinkle Toes was set up. I made coffee in the canister stove and Richard had hot chocolate. Twinkle Toes made eggs which we stuffed into tortillas and dressed them with hot sauce. I also made two peanut butter and jelly sandwiches, heavy on the jelly, for the hike. I was running low on food. I knew these sandwiches would allow me to get to Kennedy Meadows avoiding long stretches without calories or stealing from Richard's stash.
We set off around 8:30 a.m. with full stomachs and fine feet. Despite the long day beforehand, my feet felt great. Not sure why because they were not happy 12 hours earlier. The magic of sleep, maybe?
The first part of the day was a climb in the Owens Peak Wilderness. It wasn't bad, the views were nice. The best part, however, was that we were able to get internet service for the first time in days!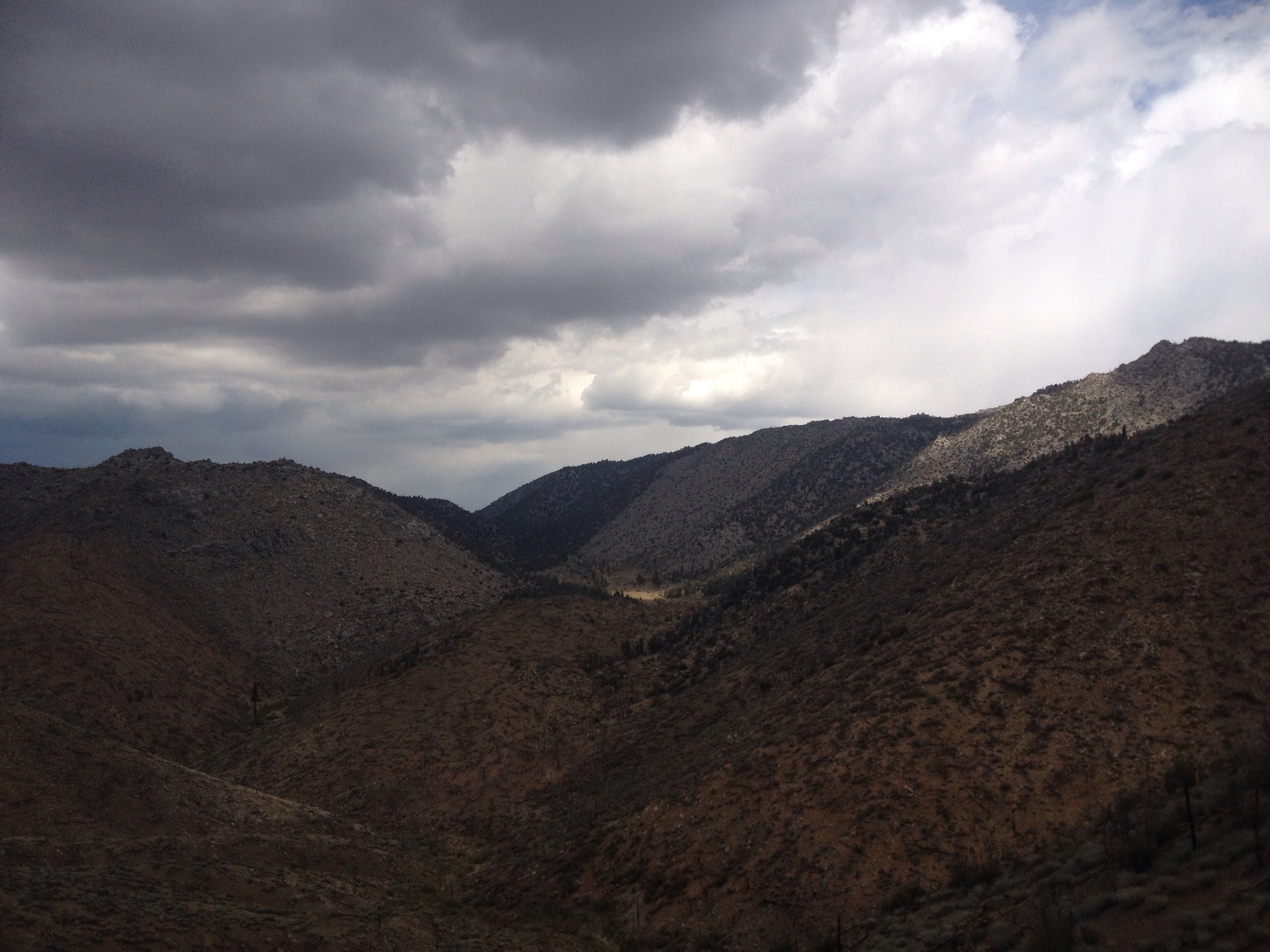 I had been wanting very badly to order new shoes and Richard was expecting an important email. It felt so nice to be in the sun, high on a ridge knowing my feet only had to endure another 50 miles in their current shoes before relief would come via UPS.
We stopped at the first water source for a short, shoes off break. I ate most of my peanut butter sandwiches and loved every bite.
We had two more climbs that day; one short and one long. We decided we had enough water to push on to the next water source in six miles, just over the short climb.
My feet felt okay for the next hour or so but were definitely ready to break well before the water stop. It seems the toes on my right foot are working their way to becoming numb on the bottoms. However, the numbness goes away with a surge of pain at seemingly random times. It's my AT foot problem again, but this time with more toes involved. Yay!
We ate dinner at the water source to avoid carrying an extra liter and a half. I got my first mosquito bites.
After dinner came the long climb. Starting on a full stomach was a little uncomfortable for a bit, but I was glad for the fuel halfway up when it started to get steep.
We intended to put in about three miles past the summit of the climb. At the top we ran into a hiker named Panda Bear. He started the same day as us at the Mexico border. He told us five other hikers were ahead and intended to camp at the same spot we were headed for. We decided to take the first flat and empty spot we could find.
We had the tent up and were snuggling in our sleeping bags as the sun went down.