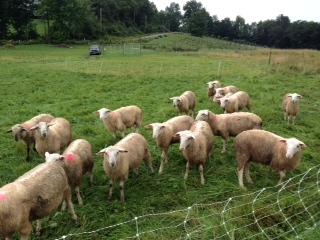 Livestock are a vital component of small farms. They allow the farmer to cultivate new crop fields by providing in-house fertilization; and, in the case of pigs, built in rototillers.
Sweetland Farm raises chickens for meat, swine and sheep. The chickens and sheep eat and poop their way around their given runs, leaving behind precious nutrients that will enrich the soil. The pigs do all that and also use their bulldozer-like noses to turnover the grass.
Farmer Norah sells the chickens, whole, from her farm stand on Route 132. The meat from the pigs and sheep is pre-ordered and butchered to order off-site.
Editor's Note: To order pork or lamb from Norah, just go to sweetlandfarmvt.com/meat.
All the animals are moved to fresh pasture regularly, depending on the speed with which the species does its proper job on the land beneath it.
Chickens are moved daily, as they tend to eat and poop copiously.
The pigs take a few weeks to really, properly, bulldoze a field.
The sheep are given access to fresh grass twice a week. It is actually very funny to watch the sheep bee-line-it for the uneaten clover.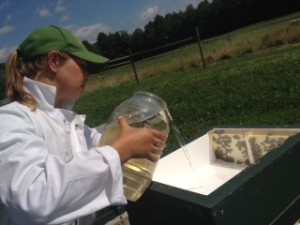 And speaking of bees, Norah has two honey bee hives this year that are taken care of by a bee expert from Littleton.
They are mostly independent workers on the farm, but do need a helping of sugar water every once in a while.
A hearty flock of laying hens provides a constant stream of eggs that Norah also sells out of the farm stand. The hens have a spacious coop, with electricity and running water, and about a half-acre of open field and shaded tree cover to roam about in search of bugs. The ladies have also dug themselves plenty of pits for dirt baths that help cool them and keep the bugs off.
If you ever want to stop by and see how Norah raises any of her animals, just pop her an email and she'd be glad to show you around.
For more pictures of Sweetland Farm, go to instagram.com/stephreighart.