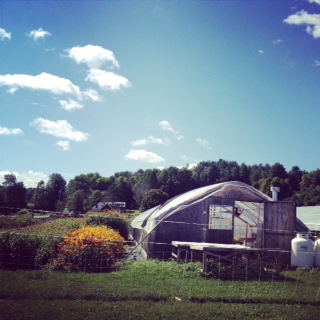 It's been three weeks since I started working for the lovely and talented Norah Lake as her right-hand farmhand at Sweetland Farm. In short, I've experienced, and (generally) recovered energies from, twice-weekly harvests, building an electric fence, slaughtering a meat-chicken flock, moving pigs and sheep to new pasture, second-cut hay bail chucking and so much weeding.
While I have enjoyed learning the varied tasks required of running a farm, I believe the best part to be the lack of walls, desk and florescent lighting. After spending three years surrounded by those things while learning to be a journalist, I am not sorry to be rid of them.
My introduction to in the inner workings of Sweetland Farm came with a lesson in wiring an eight-foot tall electric deer fence. Norah wanted to secure her future vegetable garden from the rompings and chompings of the local deer population.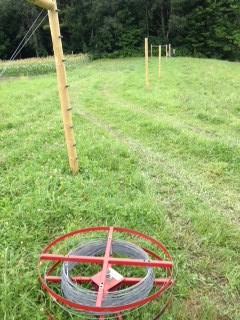 To do so, we uncoiled hundreds of feet of steel wire using a handy spinning Jenny tool. The Jenny allows the fence-builder some level of control over the speed and direction of the lengths of wire. While I have not had to build a fence without a spinning Jenny, I can imagine the frustration. Just hand-coiling 20-foot lengths of spare wire required forcing the stiff wire into circles using all four limbs. The process, if out of control, risks eye injuries or general impaling. I walked away with a few, 10-inch-long scratches.
Once the wire is hung, it must be tightened with a large spring and secured at the desired tension.
The whole process took three or four half-days over a couple of weeks. If there's one thing I've come to know in just three weeks of farming, it's that the to-do list is never-ending. And the balance of priorities must be fluid overall, yet solid at a moment's notice.
Take, for example, haying. This important activity on a farm is a solitary task for the majority of the time. The hay must be cut, dried, processed and stored. Norah and her tractor and bailer are quite capable of cutting, drying and processing the hay into bails. But moving the bails from field to barn takes many hands and backs. And when the bails are ready, it's a drop-everything kind of moment.
More on haying to come. See more photos of Sweetland Farm at instagram.com/stephreighart.